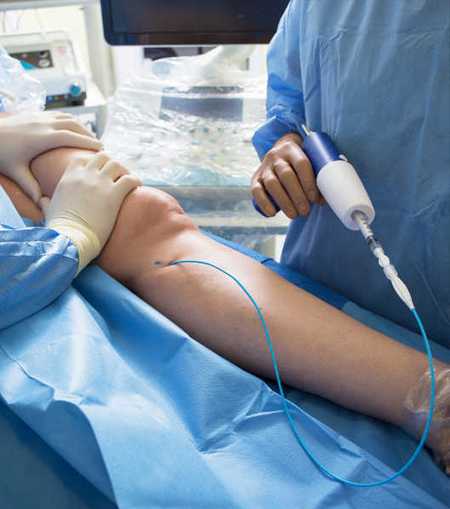 VenaSeal Vein Treatment in Las Vegas
The VenaSeal™ Closure System
The VenaSeal closure system is the only non-tumescent, non-thermal, non-sclerosant procedure that uses a proprietary medical adhesive delivered endovenously to close the vein. The VenaSeal vein treatment offers a unique approach eliminates the risk of thermal nerve injury when treating the small saphenous vein, which is a risk sometimes associated with certain thermal-based procedures. Clinical studies have demonstrated that the procedure is safe and effective. The procedure is administered without the use of tumescent anesthesia, avoiding patient discomfort associated with multiple needle sticks.
VIEW PATIENT TESTIMONIALS
Method of Action
The VenaSeal™ proprietary cyanoacrylate-based adhesive safely and effectively closes the diseased vein segment.
VenaSeal™ adhesive is delivered in 0.10 cc allotments along the length of the targeted vein.
The propriety catheter is highly visible under ultrasound, for precise delivery of the adhesive.
The procedure can be completed in an office or hospital setting and requires no additional capital equipment.
Demonstrated Results
The VenaSeal™ closure system was shown to be effective in three clinical studies, with demonstrated safety and high closure rates. This method also minimizes patient pain and reduces recovery time.
Rapid return to normal activities
Tumescent-free solution-no multiple needle sticks
Minimal-to-no bruising
No post-procedure compression stockings
*Some patients may benefit from the use of compression stockings post-procedure.
Minimally Invasive Procedure
Designed to improve patient comfort and allow rapid return to normal activities
Non-tumescent, non-thermal and non-sclerosant procedure minimizes needle sticks
Eliminates risk of thermal injury
No post-procedure compression stockings
Supported by clinical evidence across three clinical studies
Potential Risks of VenaSeal™
As with all medical procedures, there is a chance that complications may occur, including, but not limited to the following:
Allergic reaction to the VenaSeal™ adhesive
Arteriovenous fistula (i.e., an abnormal connection between an artery and a vein)
Bleeding from the access site
Deep vein thrombosis (i.e., blood clot in the deep vein system)
Edema (i.e., swelling) in the treated leg
Hematoma (i.e., the collection of blood outside of a vessel)
Hyperpigmentation (i.e., darkening of the skin)
Infection at the access site
Neurological deficits including stroke and death
Non-specific mild inflammation of the cutaneous and subcutaneous tissue
Pain
Paresthesia (i.e., a feeling of tingling, pricking, numbness or burning)
Phlebitis (i.e., inflammation of a vein)
Pulmonary embolism (i.e., blockage of an artery in the lungs)
Urticaria (i.e., hives) or ulceration may occur at the site of injection
Vascular rupture and perforation
Visible scarring
Local Clinic
Alpha Vein Clinic is conveniently located in Las Vegas, Nevada
New Technology
We utilize the latest in vein technology and advances

Complete Care
From beginning to end we provide complete patient care

Experience
Dr. Kaveh brings over 22 years of experience to his practice

Helpful Staff
Our experienced and helpful staff is here to serve you
Consultations
Come in today for a no-pressure office consultation